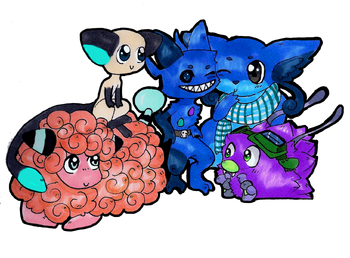 This
guild
is owned by MattsWolf.
Members consist of;
MattsWolf
Dubstep
Mashy
Luli
Waya
Hana
AllonZoh
Ishona
Balalark
Melodice
Guardios

Currently, a theatre is under construction for plays done by Mashy, Dubstep, MattsWolf and Luli~ They're all derps, and they like to be social with other people.
They have movie nights occasionally within the guild, and they're a close-knit family. They have a lot of artists in the form of Luli, Hana and Dubstep~ They try to be as friendly as possible, and they're close friends to atuskia and her guild, Kaiba Corp.
They enjoy long skype calls with their guild members, and enjoy running Tanren Chambers often.
They have completed 99f Electric, 99f Dragon, and 99f Poison in the dungeon.
Ad blocker interference detected!
Wikia is a free-to-use site that makes money from advertising. We have a modified experience for viewers using ad blockers

Wikia is not accessible if you've made further modifications. Remove the custom ad blocker rule(s) and the page will load as expected.