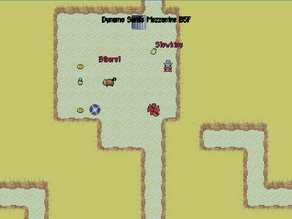 Dynamo Sands Mezzanine, was a dungeon in PMU 6. It was accessed after completing Dynamo Sands and was 12 floors long.
Pokemon
Bibarel
Slowking
Cacturne
This dungeon had no boss in it.
Items
Ether
Poke
Escape Orb
Lum Berry
Misc.
Random? Yes
Boss? No
Weather? Yes/No
Set Level? No
Trivia
This dungeon was made by DarkMazer.
Ad blocker interference detected!
Wikia is a free-to-use site that makes money from advertising. We have a modified experience for viewers using ad blockers

Wikia is not accessible if you've made further modifications. Remove the custom ad blocker rule(s) and the page will load as expected.