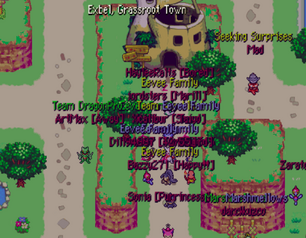 Created quickly after we in PMU6 were again allowed to make guilds for the tiny fee of 20,000 Pokè.
Eevee Family
A guild originally formed in PMU6, but managed to migrate to PMU7. This guild was formed by two people, Kiria and Inferno99 , with chimy dimmy, Kilplix, Hermi and nonukami being great friends, almost co-leaders, also one of the descendants from the guild Team Ditto.
Most of these members disappeared in the early PMU7, but of course, someone managed to stay and kept the quiet guild ongoing. Without recruiting members for a long while, Eevee Family(EF) somehow managed to grow as new members joined PMU7.

Due to the first rollback, this guild disappeared for quite some time, and did not return before a long time after the rollback. Less noticed, and not as much time to show it's newly reborn existence, it disappeared quietly as lag, bugs and more ended up leading to PMU going downhill again.
The leader of Eevee Family used to prefer to call her guild a sanctuary, before the new guild system was added into the game. As you could add members freely, and EF seemed to be rather quiet, with occasional talk now-and-then, EF would let you have some rest. Even now Kiria like to call it a sanctuary, even if there is a fee. And she hope that past, present and future members will still see it as a home and sanctuary.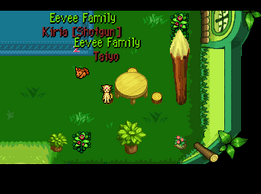 Eevee Family is currently active (as of May 9th 2014), due to recent activity. And now with a second leader-in-command. Slowly going to accept it's new circumstances, EF will seek for it's previous glory yet again, and if not, it will always have it's former glory, as well as being a fragment of PMU6.
Leader, Co-Leaders and Members
Co-Leaders :
Taiyo [Once a Mascot, always a Mascot!]
Members:
Former Members :
Too many to mention, and every one of them were precious. If you need a tiny summary you got the picture at the top :)
We thank you all for joining and hope that you all will appreciate this tiny sanctuary!