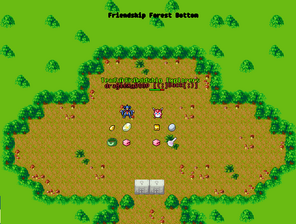 Friendship forest was a dungeon in PMU 6 that required a teammate to complete, much like PMU 7's Harmonic Tower. Friendship Forest led into another dungeon called Far Friendship Forest .
Pokémon
Budew
Munchlax
Togepi
Pichu
Eevee
Happinny
Roselia
Chingling
Items
Boss
Misc.
Random? No
Boss? Yes
Weather? No
Set Level? No
Trivia
This dungeon was made by Sprinko.
To complete this dungeon, one needed a partner.
Ad blocker interference detected!
Wikia is a free-to-use site that makes money from advertising. We have a modified experience for viewers using ad blockers

Wikia is not accessible if you've made further modifications. Remove the custom ad blocker rule(s) and the page will load as expected.