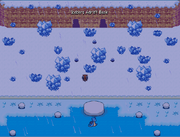 Iceberg Adrift was a dungeon in
PMU 6
, found in the
Winden
region. It required the player to use a Lapras to travel there. 
Pokemon
Wobbuffet
Sealeo
Piplup
Floatzel
Prinplup
Medicham
Items
Kelpsy Berry
Ice Beam (Regice)
Boss
Regice
2x Weavile
Walrein
Special Features
This dungeon had a "breaking ice puzzle". The player had to navigate across some fragile ice, careful not to step on the already cracked ice. If they went on the wrong tile, they would fall back the start.
Misc.
Random? No
Boss? Yes
Weather? No
Set Level? No
Trivia
This dungeon was made by Onion.