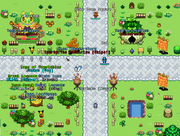 PMU 7 Player List found here.
PMU 6, before its deletion, had an entire community of its own with players that transferred their account names over to the newer version. While many of these players are contained in the PMU Playerbase, many people either stopped playing along with the end of PMU 6 or got into the new PMU 7. Anyways, here is a list of many names found in PMU 6 that may or may not be found in the newer game. Many of these players are still in PMU 7, just maybe under another nickname. Staff names are not included (with the exception of alternate accounts), for reasons noted below, and because they are listed in the Staff Team page.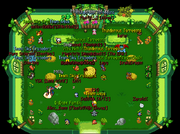 Sometime in March, there was a PMU 6 Reunion in PMU 7. It was taking place in the Inn in Grassroot Town, and there were many players there that were also frequent players of the previous version before its deletion.
Note: The names listed here are not the complete list- not even close. These names were found with the aid of various screenshots, so they are found through the maps themselves as well as global and local chat. As the colors on these chats are not always seen, as with global, some names may be mistaken. 
Any names found here that are still found in PMU 7 can be edited out by anyone that wishes to do so, in case any are repeated. Feel free to add any additional information onto the page about the players, if you know anything. Please keep this list clean and preferably without any fake usernames.
#/Symbol
1ika1
1Outlaw1
1Silver1
10tino
8Dylan8
08frank
A
A Burning Flame
ADoomA
adster2k9
Aeris
Aero
Affliction
Agunimon
Ahro
Aiai
Aka
Akido
Alcatraz
Alec
alexdabomb
AlexGarza12
Alex_kyou
Allison
Almiaranger
Amer
andrew2
Andy
An Evil Ditto
AngerisaGift
Angoni
Antemeira
Antonio823
Appa
Apple
Aro
aron
Arvata
ArtMax
Ash97
Asterisk
Asura
austinvvs
Axel aura
Ayex
B
bah bahh graysheep
Balloon
beamer
Beat
Benn
Bestfighter
BestDude
Black Dragon
blackfang773
blade312
blades
Blazi
Blazinggecko
Big Bang
Birdeh
Blackbird
Blade999
Blaze Star
blinding thunder
blustboy959
Bird (157)
Bossru
Brygus
C
capazzkicker
Captain
Carolme
Cast
Chace
Chaos_wing
chaos300
Char Flamesong
Chari
Charman
cheese almont
Chimachar
ChimChomp
chimchar108
chimerahound
chimy dimmy
Chirpy
Chitea
chris345
chris78946
Chriss
Chu Chu
Civi
ckrules
Coold
coolman
coolmanr
CorndogQuannie
CP5
CPU
Creep
crunch9
croconaw22
cunning
Cursed
Cutter
CyndaaMaster
cyndaquil
cyndaquilmaster
Cynder1
Cynder
CynderTheThief
D
Dandy
danl
Danny
dark flame
DarkAngel
dark destroyer 51
DarkHeart
Darkless
darkmazer101
Darkrai356
DarkTwo
deathcase
Death1998
destroya
devin the destroyer
Devoin
Devoir
Dimany
Dinner35
DioR
Domii
don7
Donkeykong
doopy
draciel
dragonlight
dragonmaster
Drakey
Drift King
dvil
Dymo
E
eeveechu
Emmizu
Envoy
Eon
EricPlus
Eru
experimentX (now MapleSyrupFacial)
exwhyzed15
F
Falzar
Fangorn
Fastman100
Fennes
fffffffffff
Fiero II
Fig
FighterX
FireDrake
Fire Paul
fire rage
fire team
Firewind
Flare Blitz
flareon
fluffytheshinx
Flygon9
flypikachu
Fogo
Freakazoid
Freya
funkylaurens
G
G2play
Gardevoir
ghostdude
Gidy
Glu
GO_Oldfish
Gohan350
Gohan_Elite
Goldenlink8
goldenrevolution
goldy
gomer
goo
Goose
grant
Greed
H
hacksaw
Happyface
HaveYouAnyWool
hello1
Hermi
Hidudes07
Hikari
HIM
hitokage
Ho oH Elite
Hoshiko
houndor1
Hydro
I
Iceberg (Now DefLeppard)
Ice Cream
Icelate
ichigo3690
idkk
Infernape55
Inferno99
Ino
IronMaster
ItachiFan344
J
jace
JamezZ
Jan95
jango
jaro
Jellykins
Jennifer
Jet
JFlame
Jigsaw
Jira
Jireh
jiri
Joel
Jolex
jrbiii
jtttsteelix
Jun
Junior1229
Justin98
K
Kabo
Kaen
Kakashi Hatake
Kamarai
kanto
Karkittles
KaYo
kiki0208
kill2506
killerdragon
Kilplix
King of Thieves
Kipper
Kiria
Kiyora
KMK
Knockturne
Koops
Koizora
Koratus
Krandel
Kyrios
kyle901
kyraPL
Kysen
L
Lady Gaga
laiken
lairron
laticore
Lars
leaf33
Legendary Brawler
legendarycatcher
Lena
Lenvoy
Lexie
Lighttell321
Linda
Lio
Lizzy
locasLoLsS
Loll
Lorax
Lord Ratatosk
Lucario21
Lugia Elite (Now Yang101)
Luke
Lula5
Lume
Luminaire
M
mabster
madaraxD
Maggie
MagicMan
MAGICAL MAGGOT
Magical Wing
Maikeru800
Malasorte
Mana
Martiyana
MarXzMann
MarXzMann2
Massacre
MasterShadowNinja
Maxis
mazyluikas
megaman of the world
mekka38
metalsteelix
Michael57
MichaelZ7
Michael dude
michelle and pet
midnight09
Mikey55
mikey57
Mimzy
Mind Control
Mini Me
Minsc
monferno (Now plays PMU 7 as Joomy)
monkey king
mr cool2
mr taco man
mudd
Mudkip1
Mudkip258
Mudkip999
Mudwig
Muhabjr
Mushy
MusicalProdigy
Mythman
N
Natu Rules
Nel
NeoLorax
NeoRalts
Nickk
Nicole
Nightslash
NinjaMankey8
ninja x
ninjahero
Ninjamander
nonukami
Nurick
O
Oathkeeper
Offerings
Optimus Prime
Optumus Prime
Outlaw
P
Paelo Warrior
Paradox
paz1
Pedro sa
Perfect Insanity
Phantom4722
Pheonix
PichuTheBest
pikapal
pikaxx
pikazax
piplup4
piplupen
PiplupMaster
Plasmi999
platy
PokeBoyLee
pokedex
PokeGurl
Pokemon 1
Pokemon Master
Powerforce2
PowerfulDischargeGuy
powerpac
Prinplup
Psycho Boost
pwner
Q
R
Raiichu
rahim19
ralts456
Ratatosk
Ratchet
Rambo
Ravenpaw
Reaperr
red dragon
redstars78
Reggie
Regigigas
RestInPeace
Rhaenn
Rioshi
Rocket
Rook
Ronica
Rottaran
rumble X
S
samkjonas
Samson
Sapphy
sauske de oz
sasuke x_x
Sega
Selin
Serk
Serena
seiichi
Scarlet
Sladhe
shadowquil
ShadowUmbreon
ShadoWolf77
Sharkbite48
shark_ravine22
Shena
Sheepie
Shirona
shocky1
sidney
Silencemekillyou
SilverBlade
Sinacar
Sinister23
sirejake
skellarm
Sladhe
Sleth
Snail
sniffy
Solana
Solaris
Solstice
Sonar
Sonic/Kronic
sonic117
Sophybubbles
Sorak
SoraYoshi
sordyguy
soty
Soul Fire
SoulPanda
sparkster
Sparky The Pachirisu
speed_shadow
Spinodontosaurus
sport
SsdMonkey
swamplightning
starmario10
Stephen_____
Stick Figure
Stormsword
superjoey44
supermariobros
supernova
Super Saiyan Silver
SuperSilver2
Surfing Pikachu
sweet memories
Syncz
Sz64
T
Tacoz
taco_pizza
Tails
Tatsu
Taylor
Teri Lu
Terranariko
Thalzen
The Chose One
The MOnster
The best pokemon
TheBlueWolf
thefatepalm
TheJagonmeister
thelordest
Thormith
Tia
Tibbar
timothy
Tiny
Tories
TORNADO BLAST (Now plays PMU7 under the name Boogle)
Tortilla
Tortilla Doritos
tory
Tories
totodilefan
treecko1269
Trekker
Tristran
TrueMew
trunkz
Trynitte
tur twig
tur    twig
turtwig1579
Twistedfool420
twolf63
tyranitar77
U
V
Vajicko
Valkyrie
vaan911
vegeta159
W
Watersheath
Wigglytuff
Wolf Link
Wolff
WOOWOWW
Wrecks
X
Xander
XBlazerX
XChaosX
XDO_O
X_D FTW
XHeadShotX
xien
xXEriXx
xXGardevoirXx
xXTreeckoXx
X_Jerk2
xOeRx
Y
Yangus
yash007
yatterman (Still Yatterman)
Yeo
yeyofan321
Z
Zafre
ZAKMAN
Zappeh
Zardeh
zarkz
zarrock
Zephyr
Zhane178
Zia
zjtd
zolt
Ztarz