This guild was created together by XChaos and Lovi in PMU 5/Stone Age PMU.
They had a little guild base hidden as a purple flower in the Housing District which was mapped by XChaos. The guild didn't have too many members, it m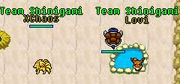 ainly consisted of the two leaders.
Later, XChaos left the guild to joined Kronic's Otaku team, leaving Lovi as the last remaining member of Team Shinigami.
Ad blocker interference detected!
Wikia is a free-to-use site that makes money from advertising. We have a modified experience for viewers using ad blockers

Wikia is not accessible if you've made further modifications. Remove the custom ad blocker rule(s) and the page will load as expected.